http://www.donaldjtrumppolls.com/wp-content/uploads/2018/09/binance.jpg
As the Judiciary Committee members ready for the first hearing to begin members of the House Intelligence Committee plan to review draft of impeachment report; Fox News Radio White House Correspondent John Decker shares his insight.
President Trump and his lawyers won't participate in the House Judiciary Committee's first impeachment hearing scheduled for Wednesday, the White House said Sunday night.
The response came in a five-page letter sent to the committee's chairman, Rep. Jerry Nadler, D-N.Y.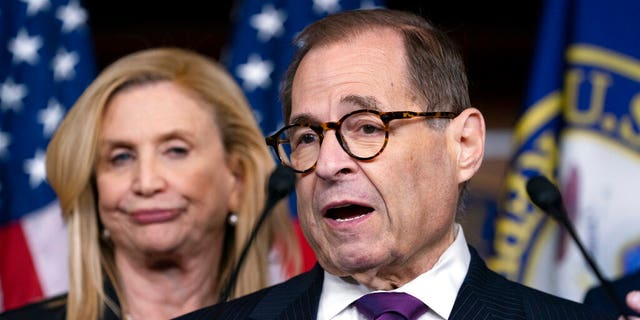 Rep. Jerrold Nadler, D-N.Y., chairman of the House Judiciary Committee. (AP)
The impeachment hearings on Wednesday will feature a panel of constitutional scholars who will weigh in on whether the president's alleged withholding of military aid to Ukraine until it investigated former Vice President Joe Biden constituted an impeachable offense.
Republicans had urged President Trump not to attend the hearings, arguing that his presence would validate a process they have repeatedly derided as partisan.
"This baseless and highly partisan inquiry violates all past historical precedent," wrote White House Counsel Pat Cipollone in Sunday's letter. "Accordingly, under the current circumstances, we do not intend to participate in your Wednesday hearing."
Nadler had written the president last week announcing a hearing for Dec. 4 at 10 a.m., and notified him of the committee's intentions to provide him with "certain privileges" while they consider "whether to recommend articles of impeachment to the full House."
Nadler also extended an invitation to the president, asking whether "you and your counsel plan to attend the hearing or make a request to question the witness panel."
"If you would like to participate in the hearing, please provide the Committee with notice as soon as possible, but no later than by 6 p.m. December 1, 2019," Nadler wrote. "By that time, I ask that you also indicate who will act as your counsel for these proceedings."
CLICK HERE FOR THE FOX NEWS APP
The House Judiciary's impeachment hearings will follow last month's hearings by the House Intelligence Committee, which heard from 12 witnesses during five days of testimony.
Fox News' Brooke Singman contributed to this report.